With Chelsea captain and centre back John Terry having controversially retired on Sunday, England have lost one of their key members of their back four. Despite the shock decision, the World Cup is still two years away, leaving national manager Roy Hodgson time to find an ideal replacement. We have listed the potential candidates who can fill the gap, and become central to the heart of the England back line.
Gary Cahill: (Chelsea)
Caps: 10 Goals: 2
picture: teamtalk.com
Former Bolton defender Gary Cahill is Terry's team mate at Chelsea and has been unlucky with his opportunities in the national set up. The 26 year old joined the London team last January and finished the season with a Champions League and FA Cup final medal. Cahill fitted in the Chelsea team quickly and became a regular fixture alongside Terry in their back four towards the end of last year. In England's recent World Cup qualifier against Ukraine, Cahill was overlooked by Roy Hodgson, who selected Everton's Phil Jagielka ahead of the Chelsea man. Having suffered a jaw injury before the Euros last June, Cahill was unlucky to miss out on travelling to the tournament. But with him likely to face Champions League opposition with Chelsea this season, Hodgson may favour Cahill ahead of Jagielka in the upcoming qualifiers.
Phil Jagielka: (Everton)
Caps: 14 Goals: 1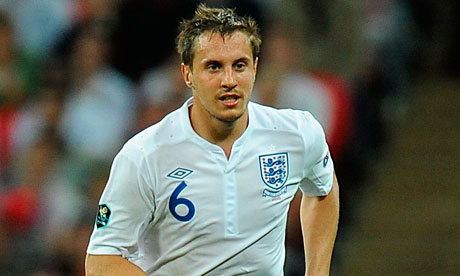 picture: guardian.co.uk
Everton centre back Phil Jagielka will be keen to claim the gap left in the England defence by John Terry. Jagielka was chosen ahead of Gary Cahill in the recent qualifier against Ukraine and also featured and scored in the summer friendly with Italy. Having played together with Joleon Lescott when the Man City defender was at Everton, Roy Hodgson may be tempted to choose Jagielka ahead of Cahill. The two have played together for England four times on which they have come out winners on all occasions. Both centre backs look set to be regular fixtures for their club this season, and having forged a partnership at Everton, this partnership at the back could well be the future for the Three Lions.
Joleon Lescott: (Manchester City)
Caps: 23 Goals: 1
Lescott has established himself as Terry's partner in the England defence and has been a regular feature in Roy Hodgson's games. The former Everton defender is almost a definite starter in England's World Cup qualifying campaign over the next two years, but the question is, who will partner the Man City defender? Lescott partnered Terry at every game in the European Championships, including scoring England's first goal of the tournament against France in the group stages. He was involved heavily in City's title winning season last year alongside Vincent Kompany, but with the side leaking goals early on this year, Lescott's performances will need to improve if he is to be a dead cert in the England side.
Chris Smalling: (Manchester United)
Caps: 3
picture: popeandswift.co.uk
Despite only managing three England caps to his name, Chris Smalling certainly has a bright future wearing the national shirt. Smalling is currently injured, and is working his way back to full fitness. The former Fulham defender has two solid seasons behind him for United in the top league, and his versatility is key to his inclusion in the national set up. As well as being able at centre back, Smalling has featured at right back at Old Trafford and will be just as reliable there as he is in the centre. Smalling's only appearances for England came at the end of the Euro 2012 qualifying campaign under Fabio Capello. Smalling also has plenty of experience at U21 level and will certainly feature for England again when back to full match fitness.
Phil Jones: (Manchester United)
Caps: 5
picture: the-football-blog.co.uk
Just like club team mate Chris Smalling, Phil Jones is another useful defender to have in the national squad. At only 20 years old, Jones was involved in the European qualifying campaign and was also taken to the finals by Hodgson where he played no part. Jones has been used mainly at right back for United but is also able to play in central defence and even in midfield where he played whilst at Blackburn. His tireless box to box runs and attacking threat makes him a dead cert to be involved in Hodgson's squads in the near future.