It's been over a year now since Spanish striker Fernando Torres made his big £50million move from Liverpool to Chelsea and it's fair to say he has not performed anywhere near what he showed the football world when he was at the Merseyside club. However over the past few games Torres has been playing, there have been signs that the forward may be returning to the world class player he is.
With only three goals in his Chelsea career so far, it's very obvious that things have not gone his way. Since his massive move to the London club, the spotlight was quickly upon him. At Liverpool, Torres was quick to show the football world what a quality player he is. In his first season for Liverpool, Torres scored 29 goals in all competitions setting a new record for the club. In his second season, Torres continued with his goalscoring managing to reach 50 goals for the club. It was clear to see how quick Torres had adapted to the Premier League, making him a handful for defenders.
picture: thisislondon.co.uk
Since his move to Chelsea, Torres has struggled finding the net. The Spanish number nine has currently gone four months without scoring a goal. With the European Championship's over the horizon, Torres has to start hitting the net, otherwise his hopes of going to the tournament will be slim.
But over recent games, there have been some signs that Torres may start finding some form and start scoring more regularly for Chelsea. With Drogba still playing for the Ivory Coast in The African Cup of Nations Torres is currently the main striker for Chelsea at the moment. He may not have scored in the games Chelsea have been without Drogba but Torres has found himself in positions in games where he has struggled to in games gone by. In the home win over Sunderland last month Torres attempted an unthinkable scissor kick which crashed against the bar and then resulting in Lampard scoring the rebound. Against Norwich, it took a great save from Canaries keeper John Ruddy to deny an effort from Torres, who then went on to miss an easier chance later on in the game.
It was the game last weekend against Man Utd where Torres looked like he maybe getting nearer to finding the net. The chance that stands out was Torres running through on goal where he had three or four opportunities to strike the ball but instead tried too hard to take the defender on and eventually lost the ball. Yes some may say that this is typical Torres fluffing his lines once again, but as a striker if you are getting chances then you must be doing something right, or getting into the right position. Sometimes all a striker needs in these situations is a slice of luck.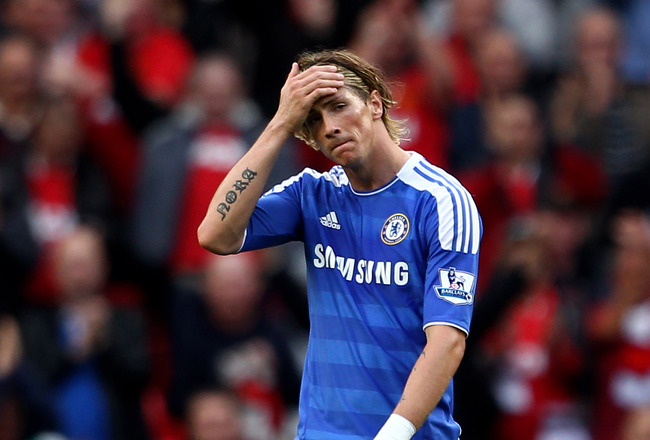 picture:bleacherreport.com
Take for instance Peter Crouch. Signed for 7 million pounds at Liverpool after impressive seasons at Southampton. Crouch went four months at Liverpool without scoring a goal. His first goal came at home to Wigan. After turning on the halfway line Crouch took the ball to the edge of the box where his long range effort took an enormous deflection off defender Leighton Baines and ended up looping over goalkeeper Mike Politt. There came Crouch's first goal for Liverpool, and after this game, Crouch became more regular on the score sheet for them. Now Crouch and Torres are completely different players and the price paid for each player is significantly different, but Torres is in the same predicament now for Chelsea.
Goals will come for Torres, it's only a matter of time before he get back and scoring regularly for Chelsea. He has proven with Liverpool that he is more than capable of performing in the Premier League. Whether it's the formation Chelsea play that doesn't suit Torres's strengths or it's a matter of confidence, Torres goal drought is one that will hopefully end for him and get the critics off his back.